The Rodger Dodger (GTD11) is a Super Treasure Hunt found in mix "C" of the 2021 Hot Wheels mainlines. It is 2/5 in the Mattel Games series and 73/250 in the mainline set.
Just like the "Magic 8-ball" the Rodger Dodger has its shiny black Spectraflame paint decorated with the 8-ball graphic on the doors. The side of the car is sleek with just the Hot Wheels logo on the front and a Magic 8-ball logo on the back. The car has a chrome interior, a black plastic Malaysia base, and Real Riders wheels.
If you're in luck, turn the car upside down and a blue triangle with "TH" symbol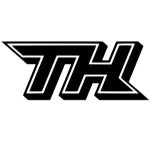 and one of the five possible phrase will be under it. The phrases that could be under the car are "Lucky You!", "Limited Edition!!", "You Got It!", "Super!", or "Super Treasure Hunt". Remember before you grab a card ask it if it's a Super Treasure Hunt. Good Luck!
The Rodger Dodger hasn't been this fun yet, but it has previously made its way into the T-Hunt in 2001 and 2005. Making its first debut in 1974 in the series Flying Colors, designed by Larry Wood.
Variations of the Rodger Dodger
Super Treasure Hunt
"You Got It!", "Lucky You!", "Limited Edition!!", "Super Treasure Hunt" and "Super!".
Regular Mainline
"As I See It Yes", "Ask Again Later", "Concentrate And Ask Again", "Don't Count On It", "My Sources Say No", "Reply Hazy Try Again", "Without A Doubt", "Outlook Not So Good", "Signs Point To Yes" and "Most Likely".
2021 Super Treasure Hunts